Follow us on Facebook and Twitter and we'll see you at the checkout counter!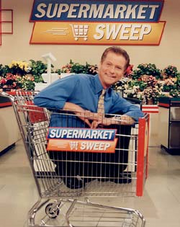 Supermarket Sweep
is an American game show which aired between 1965-1967 on the
ABC
Network, 1989-1995 on the
Lifetime
Network, and 2000-2003 on the
PAX
Network. Featuring three teams of two contestants, the format combined a "items found in a grocery store"-related quiz show with the novel concept of a live, timed race through a supermarket. A total of 1,111 episodes were produced and aired during the course of the show's 11 season, 12 year run on 3 television stations.
International Bread Center —
The International Bread Center is the store deli's fresh bread section. Found in the "Big Sweep", and featuring 18 different types of rolls, breads, doughnuts, etc., there are several types to choose from. The player must pick up the exact type and quantity of bread products as requested.
<chat/>

E-mail:

SupermarketSweepWikia@yahoo.com
Facebook:

Twitter:

In October 1966, the television game show "Supermarket Sweep" visited the Azalea Mall Food Fair for a taping. Before an audience of 300, contestants attempted to guess the correct prices of grocery items in order to win minutes of shopping for free merchandise. Bill Malone, behind the register, was the host of the show.



"Is this one of your fantasies? You see a big beautiful supermarket and they say to you, "Go ahead, do what you've always wanted to do! Run wild! Grab everything you can get your hands on! Everything in this Supermarket is yours, and it's all free!"" - Introduction (1993)




Blogs
I feel great. I still think about the older episodes from time to time. I may have the urge to start watching the 1960's episodes so I can get a feel of how the 90's run was done. I'll do that soon. Gameshowguy2000 (talk) 05:27, October 9, 2020 (UTC…
Can you believe it's been two years since I posted a blog post!? Welcome to my third blog post. For a good explanation on why I created this wiki, and just in case you didn't see it before, check out my first blog post, Welcome to the all new Super…
See more >